Residential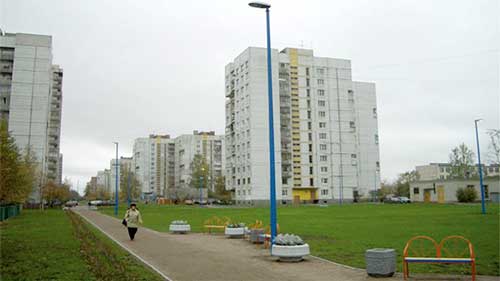 Residential lighting columns are produced for urban environments where breakaway columns are not required, due to speeds not exceeding 40km/h or no traffic at all.
The columns are conical and composed of two layers; an inner layer of fibreglass reinforced polyester and an outer layer of UV resistant polyolefin.
Each column has a calculated lifespan of over 80 years, and the product strength is calculated according to EN 40.
Product Data Sheet PDF
Bracket
Straight bracket (E0)
Post top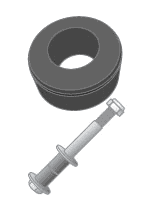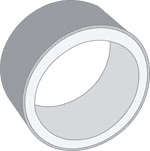 Access Panel
AD145-165
AD165-185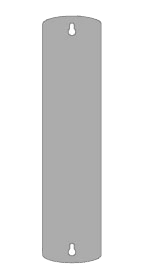 Rubber Cuff
RC150-167
RC176-192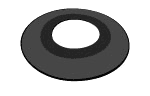 Pressure Distribution Ring
PR145-170
PR170-195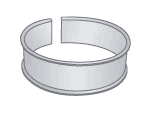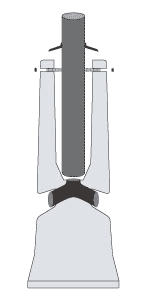 CrossLight
Traffic Safety at Pedestrian Crossings
In order to increase road safety and minimise the number of accidents at pedestrian crossings, Jerol in partnership with Philips AB, has developed the CrossLight lighting concept, tailored for pedestrian crossings.
Two Varieties
CrossLight is available in two varieties. All elements of the lighting concept are included when ordering.
LIGHTING FOR PEDESTRIAN CROSSINGS
CrossLight with a highly reflective aluminium sign, and reflective markings on the column.


LIGHTING FOR WALKWAYS
CrossLight without reflective signs and markings.
(Walkways are not equipped with signs, high visibility markings or white road markings).
Luminaire
In order for motorists and other road users to see pedestrians at crossings in good time, CrossLight is equipped with a luminaire adapted specifically for this purpose. The luminaire contains vertically orientated lights that illuminate the pedestrian and help them to look properly before crossing, as well as horizontal lights that aid in their orientation.
Crash Friendly Column
The luminaire is mounted to a crash friendly, energy absorbing, Jerol fibreglass column. It is important that the column is installed correctly i.e. on the same side as the flow of traffic, and always before the crossing.
A road with two-way traffic requires two columns, i.e. one on each side of the road.
Additionally, Jerol lighting columns comply with the new European standard EN 12767:2000.
Foundation

  The foundation should be lateral to the crossing, with the exact distance dependant on local conditions. It must however, always be 4m from the centre of the crossing. The width of a standard crossing is 3m.
 For a road with a width of 7-9m, the centre of the luminaire must be 0.5m from the road edge. For wider roads, a distance of 1m from the road edge must not be exceeded. The length of the pole arm is dimensioned according to the distance between the column and luminaire.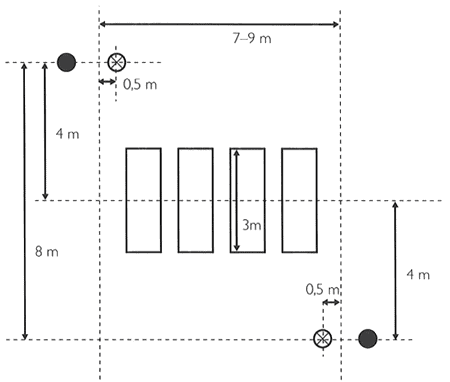 About the Luminaire
Copenhagen LED
The CrossLight design is built around the Philips Copenhagen LED luminaire.
Features:
Unique opalescent casing creates an aesthetic light.
Advanced LED technology combined with the latest in lighting control.
Forward thinking: A durable LED and upgradable operation drivers give the luminaire a long lifespan.
Timeless design
Colour: Uncoated fiberglass RAL 7035. Other RAL colours or AKZO Futura colours available upon request.
About the Column
Jerol is the market leader in fibreglass columns. Our products are produced in "traffic blue", are UV resistant and have a calculated lifespan of 80 years. Each column consists of two layers; a composite fibreglass core which handles the regular stresses on the column, and an outer layer of polyolefin to protect from the elements.
Crossing Signs
Signs are mounted to each column using a rail that is securely fastened with fully-threaded hex head screws.
The Complete Lighting Set
When ordering the CrossLight concept, you receive a complete lighting set. Every delivery comes with the following:
A Copenhagen LED luminaire and opalescent shade.
An LED lightsource
A "traffic blue", crash-friendly Jerol fibreglass column, 6m in height
A "traffic blue" aluminium arm in one of the following lengths: 1m, 1.5m or 2m
A foundation allowing for easy adjustment of the pole after assembly
A fuse
An unlit, highly reflective, aluminium pedestrian crossing sign. (Not included in the lighting package for walkways.)
NOTE: A lighting set is required for each side of the road and should be ordered in pairs.
Environmentally Friendly
The CrossLight concept has been considered carefully from an environmental perspective and both the column and arm are both produced from completely recyclable materials. The environmentally friendly nature of CrossLight makes it suitable for both city and country environments.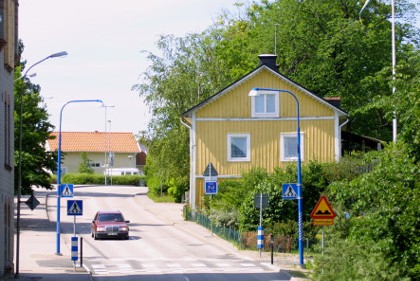 The CrossLight concept is providing safer crossings all across Sweden. See more in our Reference Project.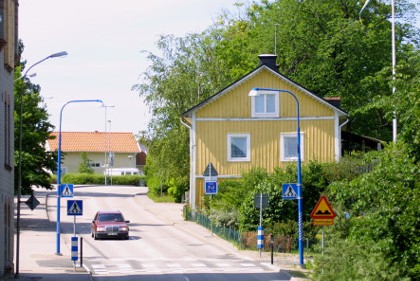 Outdoor Lighting Columns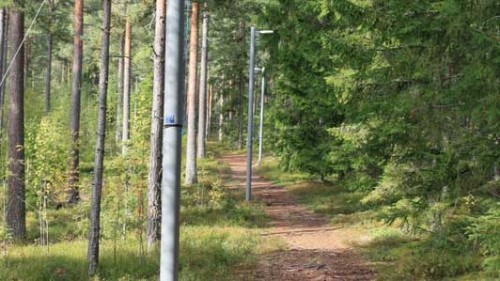 Lighting Columns for Exercise Areas
Jerol lighting columns are a great choice for illuminating exercise areas. Poles are installed alongside the exercise area with overhead lines between them and a luminaire on every pole.
Product Data Sheet PDF
Construction
Each column is made from fibreglass reinforced polyester and completely covered in a 3-4mm thick shell of dyed polyethylene.
The inner layer has a high resistance to chemicals, moisture, vermin and pests, as well as physical impact. Before leaving the factory, all poles are fitted with a cap to prevent water and moisture from entering. See photo.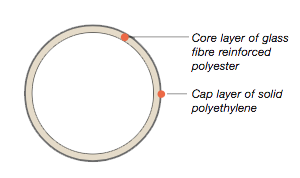 Length
Columns are delivered with illumination heights ranging from 4.5-8m.
Weight
Our products are lightweight, a column with a 6m illumination height weights only 97kg.
Guy-Wires
Wires can be affixed with U-nails in predrilled holes. See picture on the right.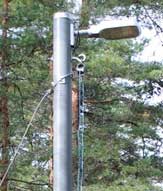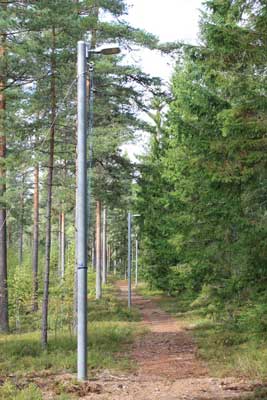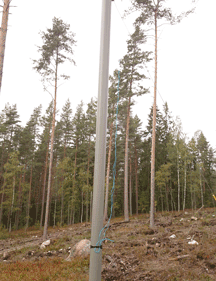 Jerol lighting columns for electrical lighting arms are an economical alternative and have been installed all over Sweden. See more in our Reference Project.