With close to 30 years' experience in technical plastics, Rolf Jernström founded Jerol Industri AB in 1999. Today, Jerol is at the forefront of the production and development of composite utility poles through our successful pairing of Swedish concern for safety and technological development. Environmental responsibility and individual safety are the common threads throughout our operation.
Jerol poles stand for safety and durability, and with little-to-no maintenance costs the calculated lifespan of each unit is well over 80 years.
Today there are 18 people developing and producing our products in Tierp, just north of Uppsala, for distribution across Europe.
The entire process, from raw materials to finished product, begins and ends at our factory in Tierp. The primary materials are glass, polyester and polyethylene. The glass arrives in the form of fibreglass thread and the polyester by tanker. Production is largely automated with the required labour being performed by 5 to 7 people per shift.
The finished product generally goes straight from factory to customer, and our sales are continually rising.
We're quite proud of our production facility and would love to tell you more. If you're an interested customer or partner, feel free to contact us on 0293 663 10 to arrange a viewing.
Features:
Completely non-toxic
Traffic posts and smaller distribution poles are CE certified and crash friendly according to European Standard EN12767
40-50% lighter than the corresponding wooden poles
Easy to transport and handle. Can be transported alongside other products and materials
Can be stored anywhere
No rotting, rusting or corroding
Impervious to woodpeckers, insects, fungi, etc.
Maintenance-free. Inspection is simple, if at all required
Electrically isolated
Easy to install and work with. The methods and tools used are the same as those with wooden posts
Excellent working conditions. Jerol poles are odourless and non-greasy, unlike their wooden equivalents
Here are our international resellers:
England, UK

Signature LTD
Road 4, Winsford Industrial Estate
Winsford
Cheshire
CW7 3RS
________________________________________
Spain
Jerol Vial
Delegación Barcelona
C/ Progres, nº 29; Pol. Ind. Les Massotes
08850 Gavà – Barcelona
________________________________________
Slovakia & The Czech Republic

Road Safety Management, s.r.o
Humenské nám. 7
851 07 Bratislava
Slovakia
office@rs-management.eu
 +421 918 800 391
________________________________________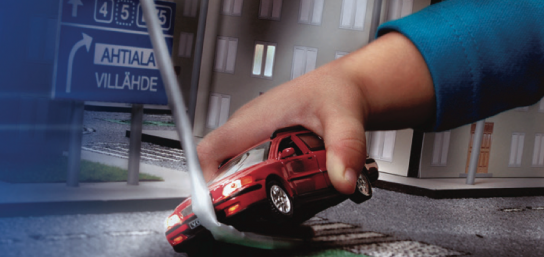 1986
Rolf Jernström develops the first fibreglass distribution pole using virtually the same principles as today. The assortment was primarily crash friendly fibreglass poles for lighting and road signs. The market however, was not yet ready for composite poles.
1999
In order to meet the requirements of the time, development of a pole that is both crash friendly and long-lasting begins.
2001
The factory is ready for production.
2000-2009
A large number of full-scale crash tests are performed and adapted to varying international standards.
2001
The first deliveries to customers in the Nordic Union.
2003
The first deliveries to customers in continental Europe.
2004
The first deliveries to customers in England
2005
Rolf Jernström is part of the standardisations team for European regulations regarding crash friendly poles.
2005
The first deliveries to customers in Spain.
2006
Jerol signposts start taking off in England. A number of partners are contracted and deliveries continue across Europe.
2008
Jerol receives CE approval on all traffic and road safety products.
2008
Development of Jerol distribution poles resumes alongside Skellefteå Kraft.
2009
A trial distribution line between Klutmark and Skråmträsk in Skellefteå is installed.
2010
Distribution poles are introduced in Sweden following an evaluation of the trial line.
Upplands Energi abandon the traditional wooden pole system in favour of Jerol composite poles.
2011-2013
Jerol deliver environmentally friendly poles to more than a hundred projects across Sweden, Norway and Finland.
2014
Jerol delivers electricity distribution poles to three separate pilot projects in England.
2015
Jerol delivers poles for an ESB pilot project in Ireland.
Jerol signs a strategic agreement with Vattenfall Eldistribution regarding alternative poles for use in environmentally sensitive areas.